Looking back on one of 2009's biggest news stories: The death of Michael Jackson
I was in LA the morning of Thursday June 25th, just days before the annual BET Awards, waiting to find out where my first show-related shoot was to take place.  I just happened to be checking out twitter when I saw a tweet from TMZ saying the King of Pop, Michael Jackson, had been taken to the hospital in critical condition.  Aside from my shock at the fact that something serious could have happened to my idol, I knew that if TMZ was correct, work-wise things were about to take a major turn.
A short while later, we got news that Michael Jackson had died.  Like most of the rest of the world I couldn't believe it – I was devastated but there was no time to let emotions take over.  I jumped into full breaking news mode.  As my team rushed to my hotel to pick me up, I gathered all the facts that were known so far then headed to LA's CBS location to deliver the latest live on 106 & Park.  On the way there radio stations played back to back MJ songs.  We couldn't listen, we had to stay focused.
That night we headed to UCLA Medical Center, where Michael Jackson had been pronounced dead, to shoot footage and interviews.  The hundreds of fans outside mourning his death were now celebrating his life – dancing, running, singing, laughing and sharing stories.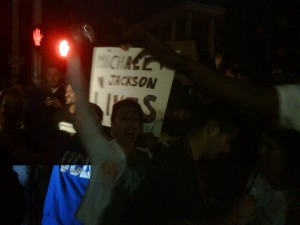 I remember a small boy, aged 4 or 5, with a gloved hand showing off his Billy Jean moves.  Speaking with one family made up of a grandmother, mother and two young kids, all of whom loved Michael, I truly realized his amazing ability to appeal to all ages, all races and all cultures through his music.
Early the next morning we continued uncovering the circumstances surrounding MJ's death.   I had a small team with me in LA while the rest of BET News was working around the clock in New York on reports for a news special about his life and legacy.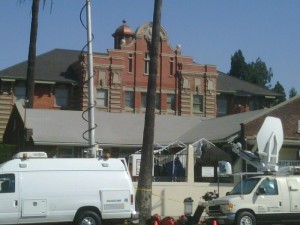 That day the coroner held a press conference announcing a few details on the autopsy report.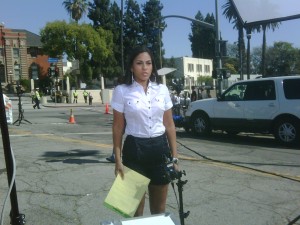 Again we delivered the breaking news on 106 & Park.
The following day we headed to the Jackson family compound in Encino, CA to tape for our special "Forever the King: A Tribute to Michael Jackson."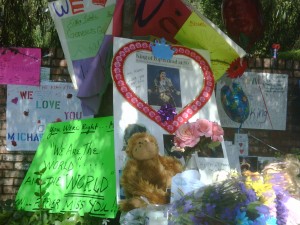 Mourners had created a large shrine with cards, balloons, flowers and gifts.  One written message "Gone too Soon" stuck in my mind.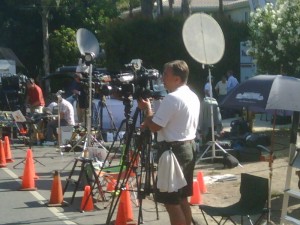 News crews were lined up all along the street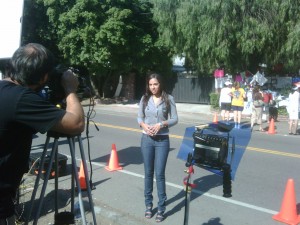 After shooting for our special all morning in the sweltering sun, it aired that night scoring record ratings for BET News.
Then came Sunday and the BET Awards.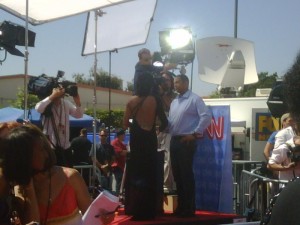 Everyone and their mother from the media was there to cover the show dedicated to the life of Michael Jackson including CNN which went live from the red carpet.  I was on the carpet too interviewing stars like Ryan Leslie, Sean Paul and Kid Cudi who all showed love for Michael through their MJ-esque outfits.   But it was a surprise guest that was my major interview…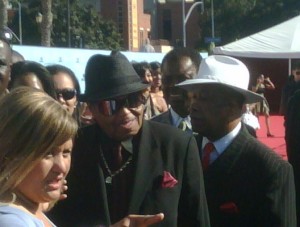 …Joe Jackson, who told me his son had wanted nothing more in life than to make people happy through his music.
Of course our news coverage did not stop there; the memorial, the funeral, the autopsy results, the investigation.  We're still unsure whether or not any of Michael's doctors, particularly Dr. Conrad Murray, will be charged in his death but as always we'll definitely keep you updated.
Though it was devastating to lose one of the greatest entertainers of all time, I can say it was truly an honor to be a journalist at the scene of one of the biggest news stories of the year and the decade.